Spend Less Time Training Your Staff and More Time Building Your Business
Get Started
Chiropractic staff training for patient care coordinators, case managers, administrators, and others is easy to implement effortlessly for the practice owner. Each lesson is taught by an industry expert in the subject matter each is video based, and many include written material and quizzes. Some lessons include practical exercises for your staff to perform so they fully comprehend the material and can apply it properly.
You're a doctor, and if you're successful, you have precious little time to train staff. Certain positions turn over too frequently and that means you have to invest more time training new people that may take away from time spent treating patients. Our material is proven to help practice owners spend less time training and more time building their businesses.
Our non-accredited Online Practice University has a team of instructors that have built highly successful practices, businesses, and have consulted thousands of practices nationwide.
This is a self-paced online learning center that can be accessed 24 hours per day, 7 days per week so that you and your staff can train whenever you have time. Each module contains many lessons that include video, a written manual or study guide, quizzes, and in many cases, practical exercises. There are even scripts for case managers and front desk staff.
Fill out this form to request a demo
Statistics show that well trained team members are happier, more productive and turn over less than those that are not well trained. This makes the practices more profitable.
LinkedIn's 2019 Workforce Learning Report stated that 94% of employees say that they would stay at a company longer if it simply invested in helping them learn.
In an employee survey conducted by Lorman, 76% of employees say that a company would be more appealing if it offered additional skills training to its staff. And 70% of employees would be somewhat likely to leave their current job to work for an organization known for investing in employee development and learning.
These are the areas employee training improves:
Employee retention.
Staff morale
Practice efficiency
Job competency
Increased practice profit
And patient satisfaction
Are you starting to see the value of online chiropractic staff training?
What's included in this chiropractic training course?
Sales Mastery – If you can't close cases…not much else matters because there will be few if any patients to treat. T.R. McManus has been teaching Sales Mastery live at medical conferences across the county for years. Providers love it, and when they become proficient at presenting treatment programs correctly, their revenue skyrockets and the practice grows. Now, you can train all of your team in these highly advanced techniques and have your whole team become experts! T.R. is a Master Neural Linguistic Programming Trainer. He'll teach you how potential patients assimilate data differently and to use this knowledge to close cases more efficiently, and at a higher close rate. Includes the 82 page study manual – Proven Sales Tools For Patient Care Coordinators.
Case Manager and Patient Care Coordinator Advanced Training – Consistency is the key to success! We all know that sometimes our team members are spot on and sometimes they are not. This training will teach them procedures, and protocols that will make them one of the very best in the industry, T.R. McManus has been a case manager and he learned how to be sure that the vast majority of people he met with became patients. He'll teach your team exactly how to be that case manager that always seems to bring in new business consistently!
How to Use Statistics to Increase Production – This course will teach how to use statistics to increase production, improve morale, and increase profit. Most practices don't realize that productive staff members make better and happier employees. Well trained staff that keep stats so you can see exactly what they do very well and where they may need a little help or training produce more, and stay with the practice longer. This course will help you reduce your level of stress and know exactly what is perfect in your practice and what areas need improvement. It will also help you evaluate your team members and departments based on factual data not emotional feelings.
How to Explain Cell Based Therapies – Most integrated practices are incorporating some form of cell based therapies. Whether it's PRP or a human cellular tissue, you need to know how to explain it correctly and keep your self on the right side of the FDA. We've trained hundreds of practices on how to explain the therapies so that the patient understands it and sees it as the correct healthcare option. We also teach how to stay away from the terms that may land you in a difficult position with the FDA.
How to Add International Stem Cell Therapy to your Practice – Many integrated practices refer patients to International Clinics for the treatment of conditions that they cannot treat with cell based therapies in the U.S.. Conditions like Autoimmune Diseases, Cardiovascular issues, M.S., Autism, lung and kidney issues, and more. This course will teach you everything you need to know about how to establish the right connections, educate the patients and participate in the care in which you can legally participate here in the U.S.. Don't worry, there's no fee splitting but you can experience revenue.
Goal Setting – Many practices don't think about the impact that proper goal setting has on the team, the production and the revenue. This course will walk you and your team through an exact process to reach your personal, financial, and corporate goals.
Insurance Reimbursement – Any practice that accepts insurance knows how hard it can be to get your claims paid. It seems that insurance companies know every way possible to avoid paying your claims. In this course we have an expert in the field, Dr Sunny Gill, show you how to track down your reimbursements and get paid for many that have been previously declined. Dr Gill will explain how the insurance companies use tactics to delay payments and how to beat those tactics.
Front Desk Efficiency – Anyone can answer the phone correctly…right? Did you know that nearly 100% of front desk team members answer the phone in a manner that loses many high dollar cases? It's true! Every time we cover this in live seminars, office staff and doctors tell us that they have been doing it wrong and suffering the consequences. Here's a PRO TIP – Thanks for calling Dr XXX's office, how may I help you is the number one way to lose a big case before the patient ever meets you.
New courses are added regularly.
What educational components are in the training?
Video instruction
Written materials, manuals, and scripts
Practical exercises
Quizzes
Drills
Take a look at a quiz question:
The Dashboard Offers You Insight as to Where Training is Needed Daily, Weekly, and Monthly!
Notice that on this dashboard, there is too high a percentage of declined treatments. This indicates a need for sales training.
Real time statistics on cases presented, cases closed, cases pending, the dollar volume of each and your closing rate.
Statistics for each team member at your fingertips.
Whether statistics are up, the same, or down, the learning center offers video training on what you should do.
More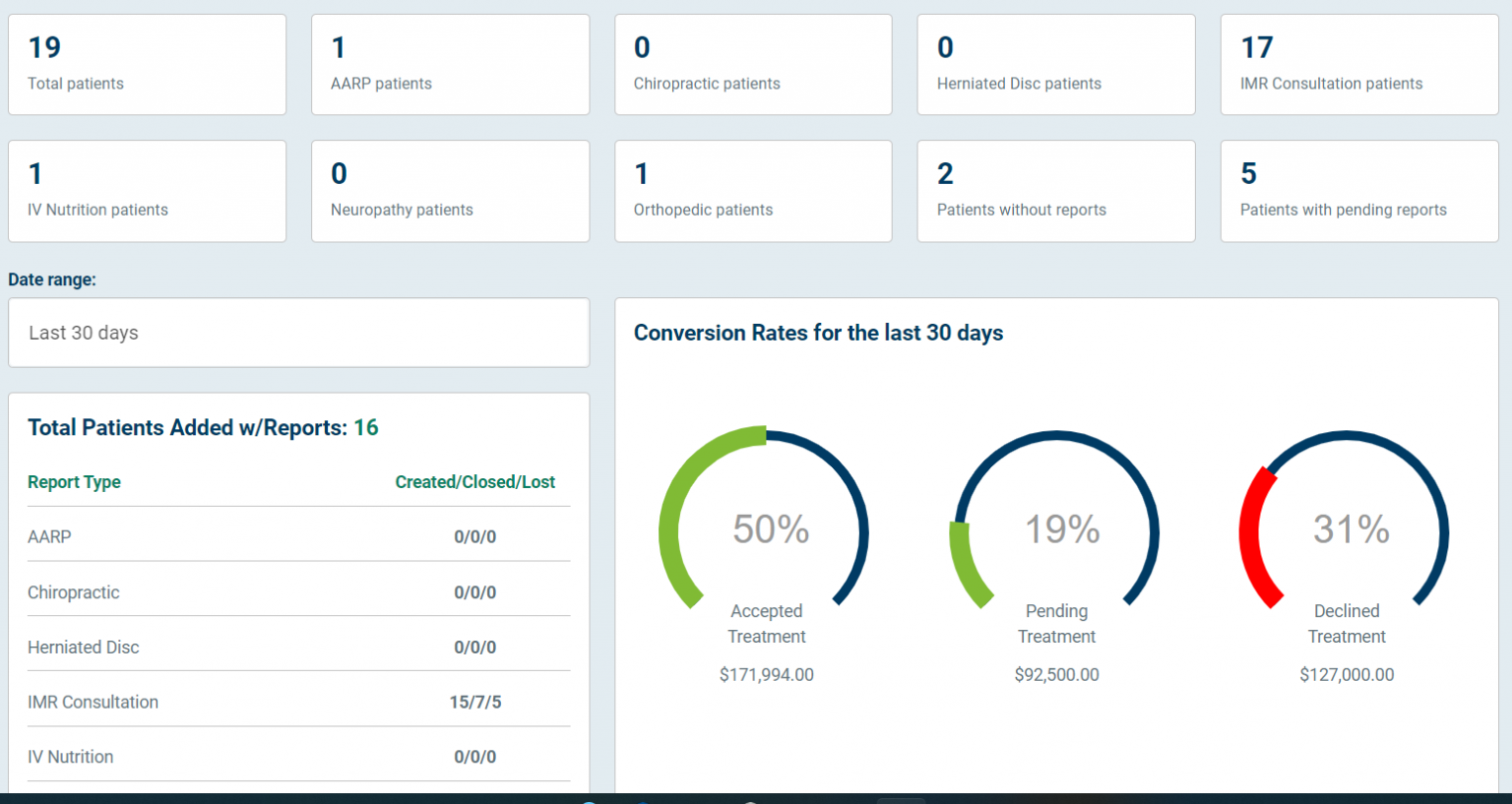 Stat center
Statistics tell any business owner where training is needed. Statistics are customizable and you can have as many as you would like for as many people as you employ. Employees can only see their own stats but you can see everyone's. This feature can help you double your practice in a less than a year!